Due to the pandemic, no annual conference took place in 2020. As in previous years, the German Council for Sustainable Development planned and realised the 19th Annual Conference according to the criteria of sustainable event management. Among other things, we take into consideration the Guide on sustainable organisation of events by the Federal Environment Agency (UBA) and the Federal Ministry for the Environment, Nature Conservation and Nuclear Safety (BMU).
As part of sustainable event management, in cooperation with the Council for Sustainable Development, Deutsche Bahn is offering carbon-neutral travel to the conference again in 2019. The electricity needed for the journey is sourced exclusively from renewable sources.
In addition, as a follow-up to the event, an evaluation of the 19th Annual Conference 2019 was conducted via the Green Score Card. The practically oriented guide enables event planning to take into account all three dimensions of sustainability (ecological, economic and social sustainability). In an online tool, 13 areas for action (for instance catering, overnight stays, event technology) are reviewed in conjunction with over 200 sustainability measures (e.g. avoiding domestic air travel and empty trips). After completion, the tool presents a detailed assessment of the event's carbon relevance.
Documentation of measures
The measures that have already been accounted for in the sustainability management of Council event planning are summarised below. To arrive at these measures, we jointly reviewed all aspects of the event location and all third-party service providers such as caterers, booth constructors, technology companies and the hotels booked for our guests to identify potential for realisation of the requirements.
Event location and travel
For execution of the event, we look for a location that offers the best-integrated sustainability concept possible (green electricity, energy-saving technology, resource conservation, sustainable handling of paper and cleaning agents, water-saving toilet flush systems and washing and toilet fittings, use of sustainable material like FSC paper, etc.). This also includes constructional aspects like sufficient natural light, energy-efficient insulation, energy-optimised air conditioning and heating technology (Federal Ministry for the Environment, Nature Conservation and Nuclear Safety recommendation: do not heat conference rooms above 20 °C and do not let them cool off to more than 6 °C below outdoor temperature) as well as separated waste collection and waste disposal (e.g. installation of recycling bins). It is also important to us that the event location compensate for all unavoidable emissions, such as through donations to climate protection projects.
We set great store by reusing materials and construction components and that construction elements be made from recyclable materials. For the directional signage and signage for stage and other objects, we use products made of recyclable materials or renewable raw materials. Alternatively, we use durable products designed for further use. In our cooperation with service providers, we give priority to those that structure their operations in an environmentally friendly manner.
If hired furnishings are used, we are careful to select a service provider that does not have to travel far. We strive to use reusable furnishings made from renewable raw materials and employ constructional elements and materials made according to current environmental standards (ISO standards, life cycle assessments) or from recycled materials. We avoid choosing non-durable plastic furniture. We do not use greenery with high water or fertilisation requirements, and the bouquets given to our speakers are comprised of seasonal flowers from fair trade operations.
We select an event location that is easily reachable via public transport. We ask our guests to travel to the event via public transport and provide space to park bicycles at the event location. For longer-distance travel, we book Deutsche Bahn's event ticket and offer it to our guests. For the transfer from train station to event location, we recommend velotaxis. We make recommendations for hotels located near the event location that ideally also have environmental certification (e.g. Green Certified, Bio Hotel, Green Key). A live stream enables other interested parties to participate in the event remotely.
Participation management
Together with an agency, we execute the invitation process entirely electronically and avoid using paper as far as possible, both in the
run-up to the event and on the event day itself. We reduce the guest no-show rate to approximately ten per cent (based on experience of past years) by sending reminder emails and requesting that recipients send a cancellation if participation is not possible.
Catering
For the event's catering, we select a regional caterer with proven sustainability in operations. Sustainable operations include the use of water-saving appliances in the kitchen (e.g. industrial dishwashers and among other things the use of biodegradable cleaning agents), avoidance of food waste (during planning, preparation, portioning and disposal), avoidance of unnecessary packaging and single-use packaging as well as small bottle sizes. We expect the caterer to use multiple-use dishes, cutlery and glasses, for both guest and crew catering. We require that the kitchen be equipped with appropriate collection bins for professional disposal of food waste. The caterer should donate unprocessed food to charitable organisations (e.g. Berliner Tafel e.V.) – insofar as hygiene regulations are maintained. We offer the guests the possibility to take home leftover food from the buffet via "Beste-Reste-Boxen" (tasty take-home boxes).
The caterer procures the food mainly from regional suppliers and in returnable deposit crates. The selection of dishes is vegetarian, regional, seasonal and certified (organic, MSC, fair trade, Naturland, Demeter, etc.). We avoid serving exotic dishes and fruits. We prioritise fresh food. We use as few convenience products and as little frozen food as possible.
The beverages we offer are: tap water in carafes, organic and fair trade coffee and tea, regional juices and organic wine, organic beer on tap from regional breweries and organic bottled beer.
As far as possible, we avoid using decoration materials and where used, we use compostable natural materials.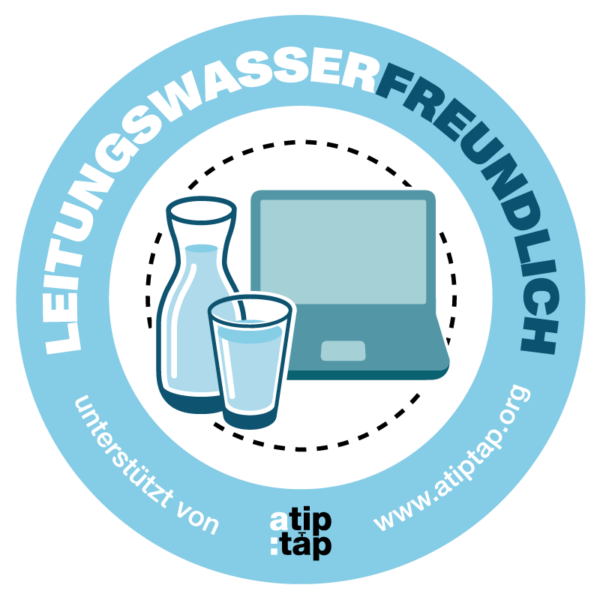 The German Council for Sustainable Development has been certified as tap water friendly by a tip: tap e.V.. Internally and at events, only tap water is available at the RNE.
Disabled access
Disabled access is a prerequisite for inclusivity and an important component of a sustainable society. The possibility for all to participate is important to us. The aim is for persons both with and without disability to be able to participate in our events without substantial obstacles and as and how they choose. Nevertheless, we are well aware that we are only beginning to tackle this task.
Currently, we take care that the event location provides for disabled access and that language barriers are removed through translation and, if required, the use of sign language. In addition, we ask participants to notify us in advance of any special assistance needed so that we can assess whether concrete support beyond the measures offered will be necessary.
Marketing materials & conference documents
We avoid using paper-based documents at the conference and neither give guests presents nor use marketing materials. The conference programme and conference documents are provided electronically. We print the name tags on-site (on paper or fabric) and thus avoid postal transport.
Communication
We incorporate the sustainability measures implemented into live communication for the event and report on the realised sustainability measures on our website. One of our aims is to sensitise the participants during the event to forms of sustainable behaviour.