Important role of supervisory boards in promoting climate action and sustainability
The World Economic Forum's (WEF) Climate Governance Initiative highlights the important role of supervisory boards in the long-term stewardship and overall direction of companies.
With its Climate Governance Principles for supervisory boards, it seeks to enable board members to gain climate awareness and skills, embed climate considerations into board decision-making, and understand and act upon the risks and opportunities that the climate emergency poses to the long-term resilience and business success of their companies.
The RNE aims to promote sustainability in businesses and the overall economic model – the transition to climate neutrality plays a crucial role in this endeavor. For this reason, the RNE, together with its domestic partner organizations, ESMT Berlin and the Board Academy e.V., has joined the Climate Governance Initiative in February 2021. The partners have established a Chapter Germany and will engage with supervisory board members and other stakeholders to intensify debates and accelerate climate action.
Urgency to address climate neutrality in business models
The urgent need to address the climate topic requires governments and businesses to accelerate the transition to a new economic model that is consistent with the Paris Agreement and the recommendations of the 2018 special report by the Intergovernmental Panel on Climate Change (IPCC) to limit global warming to 1.5°C.
Climate change is shaping a new reality, creating risks and opportunities for businesses in a diverse number of ways. Investors, regulators and other stakeholders are now challenging companies to take responsibility by adopting an integrated, strategic approach to addressing the climate emergency. Many if not most boardrooms are grappling with how to frame the risks and opportunities and embed a viable transition strategy into their business models.
To fulfil their fiduciary duties in the long-term service of their organizations, supervisory boards need to be fully aware of the implications of climate change, have the skills, tools, processes and information to act, and commit to steward their companies through the challenges climate change entails to embed it within their companies' strategic planning. Chapter Germany will contribute to this important initiative and look to cooperate with many like-minded organizations and businesses moving forward.
Webinar of the Climate Governance Initaitive in collaboration with the World Economic Forum on November 23rd 2021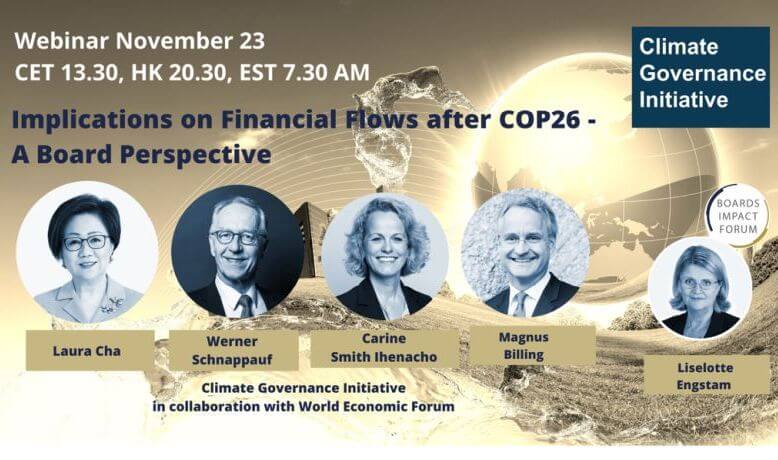 Virtual Summit, 23 March 2021: Climate Governance Initiative Germany: The Dual Board System and Sustainable Corporate Governance
The Climate Governance Initiative Germany has hosted its inaugural session at the Climate Governance Initiative's global summit on "The Dual Board System and Sustainable Corporate Governance". The panel with Dr. Simone Bagel-Trah, Joe Kaeser and Reiner Hoffmann among the guests discussed how supervisory boards can boost sustainable development and climate neutrality. This is the recording of our event:
Would you like to be informed about news from the Climate Governance Initiative Germany? Then please register for our mailing list by writing to climategovernance@nachhaltigkeitsrat.de.
Contact
Dr Marie Peters
German Council for Sustainable Development
Office c/o GIZ GmbH
Potsdamer Platz 10, 10785 Berlin
Phone: +49 (0) 30 338424-368
Email climategovernance@nachhaltigkeitsrat.de
Joanna Radeke
Center for Sustainable Business and Leadership
ESMT Berlin
Schlossplatz 1, 10178 Berlin
Phone +49 175 356 6320
Email joanna.radeke@esmt.org
Katharina von Frankenberg
Board Academy e.V.
c/o Egon Zehnder International
Beisheim Center, Berliner Freiheit 2, 10785 Berlin
Phone: +49 40 32 32 40 33
Email katharina.frankenberg@boardacademyev.de